Kristančič
They believe that the key to producing excellent wines is to very carefully, almost obsessively observe the nature and to follow the cycle of life that never ceases to amaze us. This is their only guideline, their roadmap on which they boldly drew the course they believe in. Their wines are the product of hard work, years of experience and extensive knowledge. All their wines are dry, young and fresh, yet they offer a full, harmonious mouth-feel, with just the right amount of acidity. The wines are not just clear liquids of many colours, but are a rich, heady symphony of taste and aroma, produced by human ideas guiding eons of natural evolution.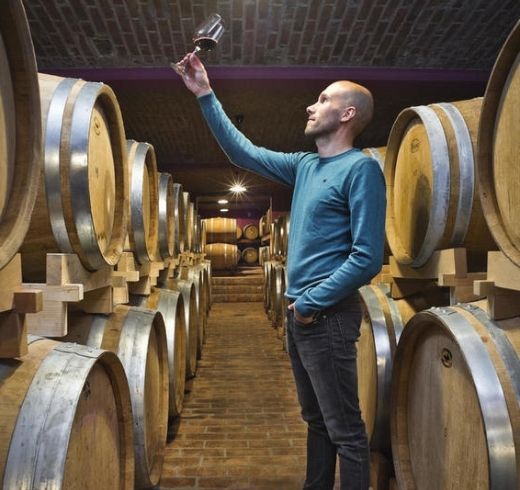 Cabernet sauvignon
Slovenia
·
Goriška brda
·
Red wine
·
Dry wine
·
2020
·
€12.74
€14.15
(9.96% saved)
The wine is distinguished by a ruby red color, which is already gaining brick shades. The simple aroma is pleasant and is dominated by the fruity character of overripe blueberries and black cherries. The taste is structured, the tannins and acids complement each other nicely and express the beautiful harmony of the wine.It is offered at room temperature 18 ° C.It goes well with mature cheeses, fresh salami, sausages, goat cheese and venison.
Pavo rdeče
Slovenia
·
Goriška brda
·
Red wine
·
Dry wine
·
2020
·
€24.12
€26.80
(10% saved)
The wine is a dark ruby colour with violet shades. The bouquet is intense, elegante and fruity (blackcurrant, chocolate, paper and oak). Fully-body wine, intense and bold, but not hot and robust. A tasty wine, rich in fruity tastes with a sweet tannin structure that leaves a long aftertaste. A great wine whose time is on his side.
Rebula Artwork
Slovenia
·
Goriška brda
·
White wine
·
Dry wine
·
2020
·
€30.19
€33.55
(10.01% saved)
Golden yellow with gentle orange hues indicating that the wine is macerated and barricaded. The intense aroma spreads lushly from the glass, is long and complex, fruity, can be reminiscent of vanilla and caramel.The taste is rich, with pronounced minerality, in the mouth the wine is dry and strong, with a long decline. Acids and alcohol are nicely coordinated and emphasize the harmony of the wine.We recommend it with vegetable cream soups, meat appetizers, fish main dishes, dishes with truffles.