Medot
The wine tradition of the Simčič family dates back to 1812, when Goriška Brda was a poor region and the local farmers, accustomed to hard work and with an iron will, overcame the relentless challenges of nature and had a hard time making ends meet by selling wine and fruit. Today's image of Goriška Brda, with a vibrant, top-quality wine offer that stole the limelight as one of the most exciting new white wine regions in the world, was burnished by Zvonimir Simčič of the Medot Homestead, who, in the region's post-war development, played a key role in the field of wine production. The unified vineyard of the Medot family lies directly in the heart of Goriška Brda and spreads out over three hectares.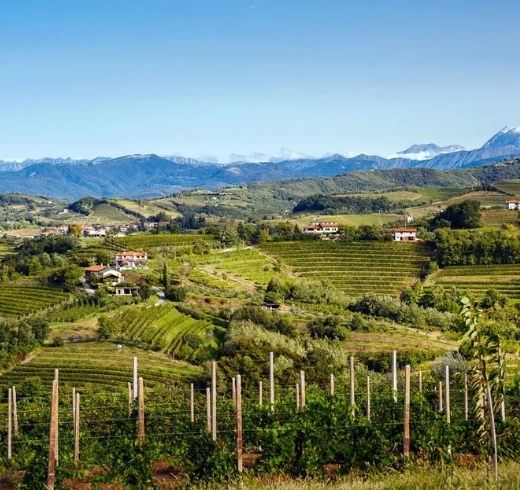 Rebula Journey
Slovenia
·
Goriška brda
·
White wine
·
Dry wine
·
2021
·
Rebula Journey presents part of the life journey of Zvonimir Simčič, the founder of Medot. This wine found its way among the fresh, light wines he produced in the Brda wine cellar and the older and more complex ones he created at the Medot Homestead.AppearanceA complex, full rebula that combines the properties of fresh, simple fruit rebula with the fullness, richness, minerality, and salinity of macerated rebula.TasteFull, rich, fresh, with a nice acidity that emphasises minerality and salinity. The aftertaste is lasting, fruity and long.
Penina Medot Brut 48
Slovenia
·
Goriška brda
·
Four years of sitting on yeast, it is the youngest sparkling wine of the Medot Homestead, but already shows the character and characteristics of serious champagnes.The tiny and subtle bubbles are vibrant and energetic. Yellow-green and gold - the intertwining of freshness and ripeness is noticeable at first sight. Pastries and white fruits, citrus fruits, and a full and harmonious minerality can be detected, ending in a convincing and long finish. The wine nose is fresh, fruity, mineral. The predominant note is ripe Golden Delicious, overlaid with the scent of white peach and almond blossom. In the background, we notice the gentle autolytic notes of four years of sitting on the yeast.
Penina Medot Rose
Slovenia
·
Goriška brda
·
The taste of strawberries and red fruit contrubutes to the full body of the sparkling wine, while notes of toasted bread and hazelnuts add to its complexity and fullness. The finish is very fresh and harmonious.The multi-layered wine nose reveals a distinct fruity character and the beauty of long ripening on fine lees. We recognise a wonderful mix of aromas of citrus fruits, berries and hazelnut biscuits, as well as bread crust and honey.