Potočnik
Tucked away in a valley called the Dog's Tail (Pasji rep), protected from the bora wind, this sun-kissed estate has the perfect conditions for growing grapes. The valley and the name of the vineyard were already mentioned in Johann Weikhard von Valvasor's book "Slava vojvodine Kranjske" (The Glory of the Duchy of Carniola) back in 1689, and in writer and priest Matija Vertovec's book "Vinoreja za Slovence" (Winemaking for the Slovenes) from 1844. Wine connoisseurs know the homestead for its zelèn wine which has been made in their ancient vaulted cellar for centuries.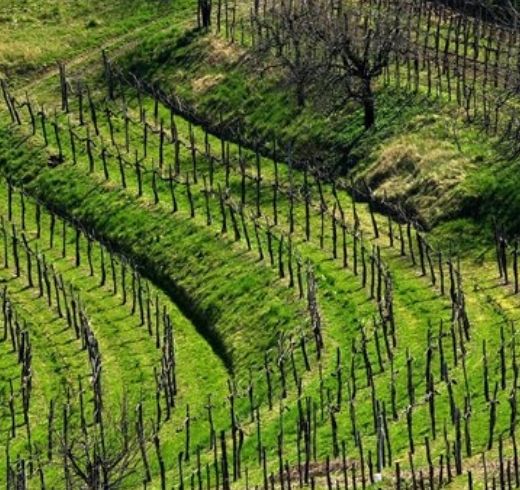 Zelen konzorcij
Slovenia
·
Vipavska dolina
·
White wine
·
Dry wine
·
2018
·
The wine is a green and yellow colour. It is possible to sense particularly fruity and floral aromas, the scent of exotic fruit and citrus fruits prevail. In the back it is possible to sense the grassy notes. The wine is dry in the mouth, mineral, with lovely acid and harmonious.
Penina Zelen
Slovenia
·
Vipavska dolina
·
Sparkling wine, produced by the classical method, has a more pronounced yellow color with shades of green. The sparkling wine has a delicious and rich, complex taste. The scent expresses a wide range of scents with perceptions of cinnamon, herbs, roasted hazelnuts, bread crust, yeast.