Quinta do Tedo
The Quinta do Tedo estate grows 100% organic grapes coming from 37 acres of class "A" vineyards, the highest rating from the Portuguese "Instituto do Vinhos do Douro e Porto". This rating is subject to soil make-up, vineyard exposure, grape variety, vine spacing and altitude. By respecting the land with traditional viticultural methods, while incorporating essential modern technology, Quinta do Tedo became certified organic in 2011. Vineyards are on average 35 years old and yield 1.5 tons per acre. This low yield for mature vines creates concentrated flavours and a high level of complexity in Port and red wines.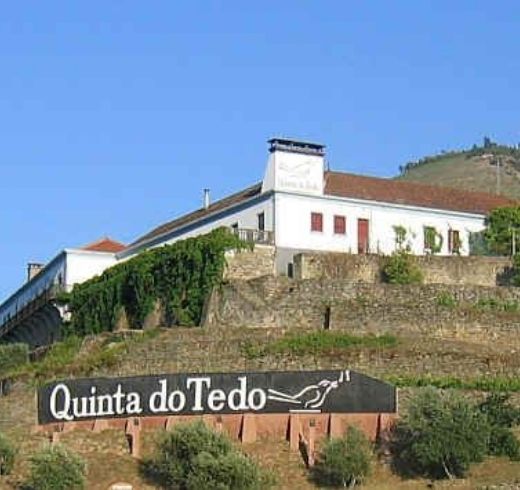 Porto Vintage 2003 Savedra
Red wine
·
Fortified wine
·
2003
·
Ruby-red color with purple hues. Fruity notes are reminiscent of ripe blackberries and blueberries, cloves, dry tobacco leaves. Full body, generous taste, fruity with strong tannins, long and strong decline.Very complex, reminiscent of elderberry, green pepper and pepper. The taste is fresh and juicy, the wine is beautiful rounded, moderately aromatic and with a long decline.Young vintage goes well with venison, even feathered, cheese with noble mold,desserts with chocolate, coffee, walnuts, cinnamon, caramel. More than 20 years old can be accompanied by more gentle ones dishes, even fish, and many original recipes (cod in béchamel, partridge with grapes, pheasant with fois gras).IVintage porto is great at the age of up to seven, between the ages of seven and ten it goes through transformation, is good again after 10 years.
Porto Fine Tawny
Red wine
·
Fortified wine
·
Brownish with amber tones. Dried fruit, dried figs, hazelnuts, walnuts, orange marmalade, notes of tangerine and spices (cinnamon, curry). Soft, generous and voluminous; taste of hazelnut; some structure to maintain an intense half mouth; sweet, long and persistent finish.Goes well with Roasted almonds, onion marmalade on toast, foie gras on toast, brandade-stuffed gougères with romesco sauce, hard cheeses (gruyere, comté, parmesan), creme brulée, white fruit baked desserts, nut tarts.