Salomon Undhof
For the last 228 years, Salomon Undhof has been producing white wines on the best terraced sites along the Danube. Crystal clear wines with fine minerality combine elegance and finesse with expressiveness and longevity. Salomon Undhof is one of the oldest privately owned wineries of Austria. Here, the first bottling of wine produced entirely on an estate in Austria took place in 1932. By the late 1930s, these wines were already being exported to the USA. The distinctive style of the Salomon Undhof wines stems from an alliance between character, balance and harmony. Their wines meant to be drunk young are fresh and subtle, while wines for ageing acquire a luscious complexity over time.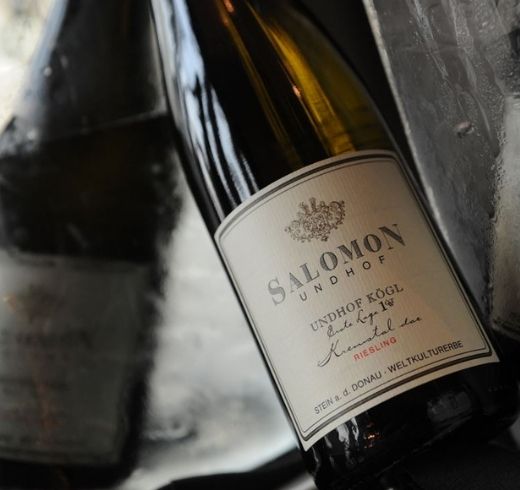 Gruner Veltliner
Austria
·
Lower austria
·
White wine
·
Dry wine
·
2021
·
Bright yellow-green in colour. In the nose fresh, characterized by green apple, lime and light, well integrated wood hues. Nuances of green apple combined with pear and fine hints of lime create a finly composed mix of aromas. With a fresh taste in its long finish, this wine can be enjoyed young.Goes well with appetizers like fresh salads with fresh goat and sheep cheese; cold starters like ham, bacon, sushi & sashimi, Vietnamese spring roll, most pasta – with non-tomato sauce; most pizza; fried chicken; roasted chicken; Wiener Schnitzel.
Riesling Terrassen
Austria
·
Lower austria
·
White wine
·
Dry wine
·
2021
·
Beautiful Riesling made from grapes from steep vineyards near the town of Stein. Appealing citrus and peach notes with a light touch of minerals and a fresh finish.
Traminer Gelber
Austria
·
Lower austria
·
White wine
·
Dry wine
·
2019
·
Bright gold. In the nose a light hint of grapefruit and filigree rose-touch. The soft minerality combined with the fine structure tempts into drinking one more glass.