blažič
The Blažič Farm is situated in the heart of Goriška Brda, in Medana. Their vineyard lies on the Slovenian-Italian border. The border also divides the seven hectares of incredible positions of vineyards which annually give more than 30,000 bottles of wine that was first bottled in 1993. Nature-friendly production and processing of grapes gives their wines their main characteristics. Based on the length of maturation and the complexity, the wines are divided into three lines, i.e. fresh wines, matured wines and selections - wines that are produced during the best years, from the best grapes and in small quantities.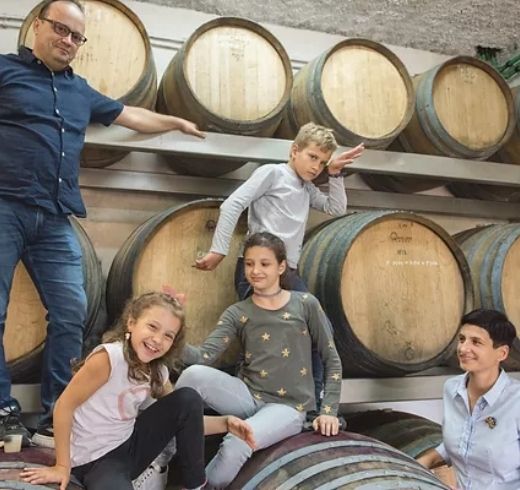 Rebula selekcija
Slovenia
·
Goriška brda
·
White wine
·
Dry wine
·
2018
·
The wine is made from an excellent vintage, from selected positions and grapes.As a result of a week long maceration, full ripeness of grapes and five years of aging in big oak barrels, it is of a deep amber and orange colour. On the nose is very complesive - ripe, rich and varied, reminiscent of dried apricots, dried flowers and spices. Great balance of tannin and acidity and long, full and very mineral taste. A rich wine, that excels its drinkable and potencial for further aging.
Blaž rdeče
Slovenia
·
Goriška brda
·
Red wine
·
Dry wine
·
2008
·
It is of rich and deep ruby colour with red and violet shades. The aroma is complex and rich – in the foreground overripe berries and plums, and in the background the scent of spices and dark chocolate. It is of a bold and proud body with velvety tannins and a long-lasting fruity aftertaste.