Petra
The Petra Winery in Suvereto is a part of Gruppo Terra Moretti, which extends over several vineyards. In this modern and functional cellar, the use of machinery is minimised during grape processing. The production cycle is modern and practical, but never far from tradition.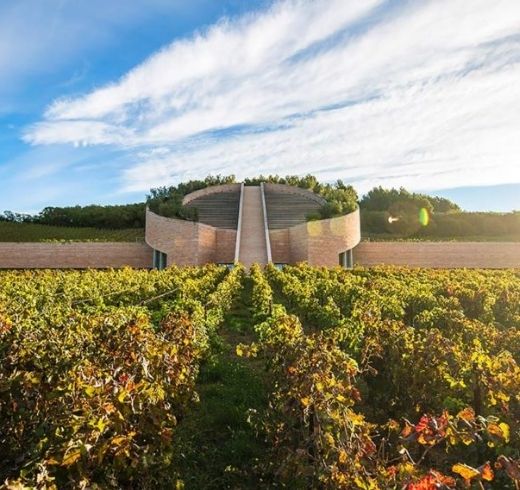 Petra Toscana HEBO Rosso – PETRA
Red wine
·
Dry wine
·
2019
·
Cabernet sauvignon 50%, merlot 40%, sangiovese 10%Bright ruby red. On nose it reveals fresh aromas of black cherries, violets, blueberries, peonies, mineral hints and nuances of maquis shrubland. The taste is fresh, sapid, light, pleasantly fruity, subtly sapid, with gentle, welltailored tannins.The name of Hebo is taken from an ancient Etruscan settlement, and recalls the historical roots of Suvereto.It is produced with a classic assemblage of cabernet sauvignon, merlot and sangiovese, varietals introduced to this area by Elisa Bonaparte Baciocchi, Princess of Piombino from 1805 and enlightened wine enthusiast.
Petra Quercegobbe Merlot l.2018
Red wine
·
Dry wine
·
2018
·
The color is a very deep ruby-red. An ample and intriguing nose opens with the fruited notes of blueberry, raspberry, black cherry and plum, followed by the mediterranean contingent: myrtle, rosemary and licorice.The body is dense, full, smooth, with polished tannins. Vigorous yet balanced, this is a striking red that will not fall short of expectations.
Petra Toscana Rosso l.2006
Red wine
·
Dry wine
·
2006
·
Brilliant ruby red colour. To the nose it is whole and intense, with hints of red fruit, wild blackberries, cherries and currants.These aromas are plea- santly accompanied by balsamic notes reminiscent of the Mediterranean brush, bay leaves and spiced notes of pepper and incense with hints of vanilla, which create a highly complex and refined bouquet. To the palate it is powerful and full-bodied, refreshing and underlain by rich and silky tannins.