Rodica
The Rodica Family Organic Winery is located in the heart of Slovenian Istria, in the village of Truške near Marezige above Koper. The winery is located on the top of the hill and offers magnificent views over the Gulf of Trieste and the unspoiled nature of the Dragonja river valley. Grape production is carried out following the rules of organic farming, based on management in harmony with nature. With great respect for nature and tradition, with love and passion, they produce wines that inspire them.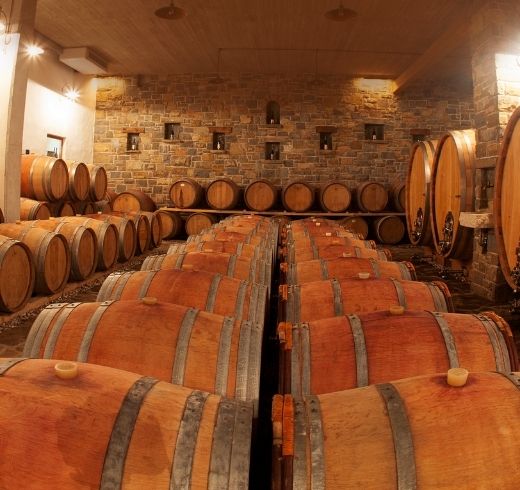 Malvazija
Slovenia
·
Slovenska istra
·
White wine
·
Dry wine
·
2020
·
Malvasia Klasika is intensely golden yellow and surprises us with aromas that range from vanilla, acacia, peach, grapefruit towards aromas of field flowers and gently sweet aromas. The body is medium rich with an elegant fruity taste and slight mineral after-taste.Malvasia Klasika takes us on a journey to the Mediterranean and is a great combination with fish dishes or, even better, traditional Istrian pasta "fuži" with white or black truffles.
Truške rdeče
Slovenia
·
Slovenska istra
·
Red wine
·
Dry wine
·
2015
·
Truške Red is a couvée of Refošk, Merlot, and Cabernet Sauvignon that has a ruby red color with a copper-like shade that shows us this wine is almost archive-like. On the nose, we sense rich aromas of ripe and over-ripe red fruits (plum, currant, and sour cherry) as well as notes of jams and marmalades that are enriched by aromas of wood, herbs, and spices. A hint of ethereal aroma shows us the longer period of maturation in wooden barrels. In the mouth, the wine is rich and fruity with almost velvet-like tannins and a complete and elegant after-taste.We recommend the wine with meat stews (goulash and venison stew), red meat (steaks), aged cheese (Brkini cheese, Tolmin cheese). We recommend it with beef with aged cheese and roasted cherry tomatoes.
Rumeni muškat 0,5l
Slovenia
·
Slovenska istra
·
White wine
·
Sweet wine
·
2020
·
The wine is of an intense golden yellow color. On the nose, it surprises us with a rich selection of aromas, ranging from a characteristic note of nutmeg to citrus fruits, elderberry, and herbs. In the mouth, the wine is rich, sweet, and fresh with a characteristic note of melon which is a reflection of the proportion of Momjan Muscat. It is excellent as a stand-alone wine or with fruit desserts (Paul's cake, peach cake, and apple strudel with cinnamon).