Wine is a beautiful story
"Wine is a tradition, it is a culture and an art. ..."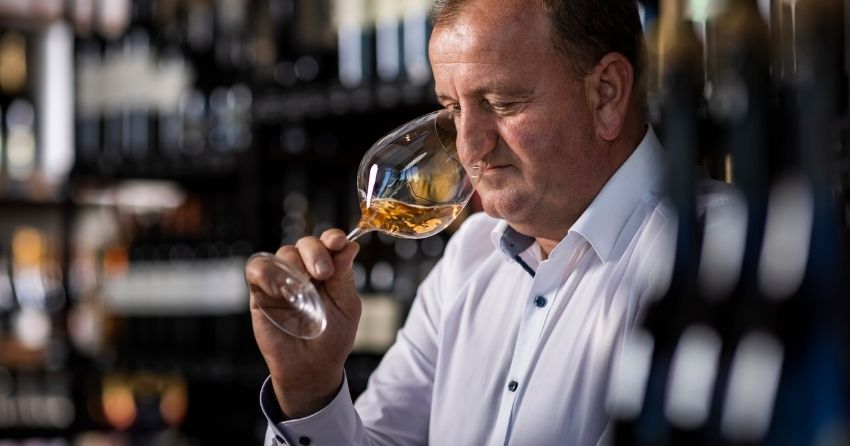 "Wine is a tradition, it is a culture and an art. In wine, there is truth, in wine, there is a story, and wine is communication." Thus begins the catalogue of the wine house run by Jože Koželj that is the largest wine distributor around here, so large that he even started a biennial wine festival to present his portfolio. At this year's eighth Festvina festival in Brdo pri Kranju in September, he expects sixty Slovenian winemakers and twenty-five from abroad. Koželj is convinced that the Slovenian wine writes a wonderful story, the prospects for this year's harvest are good, and last year's harvest was excellent, but there will be a strong competition on the market, because all of the wine-growing Europe had a good year.
Mr. Koželj, what are you, a distributor, wine merchant, promoter, wine lover?
Virtually all of the above. If you are not a wine lover, you cannot be its distributor. The first prerequisite is obviously an acquaintance with winemakers, but if you are not a wine lover, you also cannot sell their wine and wine stories on to others. You can't just be a trader in this business, traders are too engrossed in percentages. We perceive wine as a story, which is different. We deal with something that our winegrowers or winemakers live on, not just them, their whole families live on the wine business. With this in mind, we must be, so to speak, normal traders and distributors, we must represent them in the right way, so that in the end we are all satisfied, them, us and of course our customers, not only individuals but also bar and restaurant owners and retail chains, who sell the wine and its story on again. It's a long chain.
I read that you are the largest Slovenian wine distributor, today offering more than 1,500 different wines and representing 100 wineries. How did you get started or what led you to wine?
It's a simple story. I worked for someone who was involved in wine distribution, but we had to end the cooperation due to financial problems and other reasons, so in 2001, I continued with my own company, which had already been founded earlier, in 1994. I was persuaded into it by Slovenian winemakers of my acquaintance, who advised me to sell their wines to restaurants – and so I started with three employees. There are now seventeen of us, a large team of people who love their work. And last but not least: wine is a beautiful story. If everything is properly directed in this business, the inflow is steady, but everything must be well thought out so that it does not leak…
I attended the last Vinart tasting in Zagreb. The main organiser Saša Špiranec told me that some winemakers, including Slovenian ones, dictate trends and their visions to Croatian customers. Is it the same in Slovenia?
Of course, especially those winemakers who are close to Italy, in fact all those who travel around the world, and in particular those who have received high marks abroad, make sure that such successes are heard of at home. And this is in a way a suggestion, a guideline. If we look at the successes of small winemakers, they have done a lot for the image of Slovenia around the world.
Syrah
Slovenia
·
Slovenska istra
·
Red wine
·
Dry wine
·
2019
·
Dry wine full of flavor. Juicy with medium acidity and rounded tannins. Purple colour with shades of red. Aroma is youthful, spicy with floral notes.
Krasno Rebula
Slovenia
·
Goriška brda
·
White wine
·
Dry wine
·
2021
·
Reminiscent of Mediterranean citruses and cedar – rounded with a delicate note of vanilla and fresh bread crust. Taste is elegant, fresh and harmonious; a slight touch of sweet tannins in a long conclusion. Deep yellow with gold reflections.


I was also told in Zagreb that once praised 'great wines', i.e. heavy wines with a lot of alcohol and oaky notes, are no longer popular today and that winemakers take this into account. How has the taste of Slovenian drinkers changed since independence?
With new generations, the perception of wine is dramatically changing. People are more and more knowledgeable about wine, so winegrowers and winemakers are also trying harder to please. They see, for example, that the sophistication of wine is more and more sought after, that the connection between wine and food is increasingly important. This requires pure aromas, oak is now only another spice, an addition to an already good wine. Gourmet cuisine also gravitates away from semi-dry and semi-sweet wines, although some predicates remain indispensable for desserts. The trend of champagne and sparkling wine is increasingly moving towards dryness, simplicity, purity and drinkability. Wine is like the icing on a cake, when you can sense the right maturity and the right harmony, you know that's it, the only thing left to do is savour and enjoy it. The right attitude towards wine is the finding that wine is not for getting drunk, but for enjoying with food.
Who sets the trends? We often adopt foreign ones – for example, the fashion of barrique and vanilla wines, Italian sparkling wines, as well as gin, rum, single malts and Japanese whisky has come and in some cases passed…
With the age of the internet, new trends are emerging instantly and all around the world, and these are extremely influential trends. Wines are also included, of course – one such rise was experienced by Franciacorta, the sparkling wine from Lombardy. Now its sales are back to what they used to be, they don't grow anymore, but another such incredible overnight sensation was prosecco.
I heard that half of everything you put on the market is sold in Ljubljana. Is this correct?
I could say that. Yes, the greater Ljubljana area is an important market. We are here, on the border of Upper Carniola, and this part is the strongest in terms of market and sales, especially with regard to special and interesting wines. The concentration of the population plays a big role here.
In September, you are organising the eighth Festvina wine festival in Brdo pri Kranju, intended primarily for customers in the hospitality industry. What has changed since its beginnings?
Initially – when we started sixteen years ago in Brdo pri Kranju – it was intended to show a wide selection of wines that we handle and sell. The plan was to show in one place the wines of different winegrowers, winemakers from different regions, different tastes and wine styles, and at the same time allow each of the hospitality workers in charge of purchasing wine or drafting the wine list for their restaurant to get to know all the wines that they sell throughout the year.
Much has changed since the first Festvina (we hold it every two years) – from the first year's 300 visitors we have now reached 1,500 participants. At the first festival, 25 winegrowers presented and offered their wines for tasting, now we have 85, of which 60 are Slovenian and 25 are from abroad. However, our festival differs from others in that we mostly highlight Slovenian winegrowers, as our sales catalogue is predominantly based on their wines. We are more than willing to do our best to distribute their wines as well as possible. The program of this year's festival on 30 September will also include various workshops, but the event itself won't be pressured. It will be calm and simple, without crowds, and everyone will have the opportunity to talk to the winegrowers, properly and without haste. We organise Festvina not with sales or earnings in mind, but as an advertisement for good wines.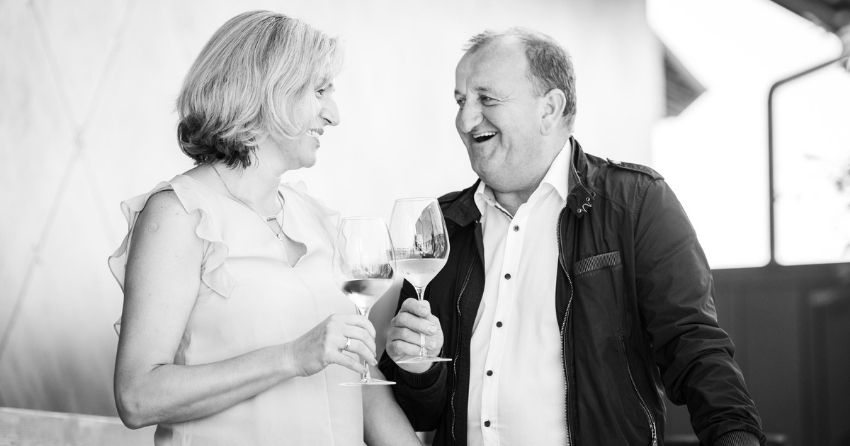 Do you advise your customers on the design of their wine lists? By this I mean the sommelier conundrum or the joy or the art of pairing food with wine.
This was our intention from the beginning, to help design a beautiful wine list, that is, one that will show all Slovenian wine-growing districts or regions, complemented by a few wines from abroad, just as a curiosity. If we don't highlight the whole country and include all the winegrowers on the wine lists, we won't get far, we'll stay on the same track. There are many different tastes, so it doesn't make sense to impose only one fashion or region, for example, only Goriška Brda or Vipava Valley, when there are also Styria, Lower Sava Valley, Drava Basin, Istria… Recently I walked around Brežice, and I couldn't help but marvel at how beautiful the land and the wines are there, everything has to be presented. In this respect, with our wine story in mind, and no matter how corny it may sound, Slovenia is beautiful.
Last year I had the honour of speaking with Steven Spurrier. He commented on the rise of so-called orange or amber wines, produced according to centuries-old proven methods of longer maceration, saying that these are fascinating wines, but a significant risk for the winemaker. You also sell them.
There are not many of them in our catalogue, or rather, there are few of them. We are happy to represent Valter Mlečnik, who I think is one of the best winegrowers and winemakers in this part of Europe, but I am not a big fan of extreme orange wines. In my opinion, this is a very delicate matter that can quickly go colossally wrong, or it can be phenomenal…
Wines with an aggressive charm?
… I say these are very interesting wines for late evening hours, perhaps paired with a specialty cheese.
Spurrier also added that he is not a fan of so-called natural wines, saying that they are often not very good because they are either missing something or have too much of something. Your opinion?
Natural wines have become a fashionable talking point in our country, but honestly, every wine in Slovenia, from the first to the last, could be called natural. Every winegrower has his own land, vine, hand and of course mindset, his own idea of the characteristics of the wine he intends to put on the market. I avoid the label of natural wines, but they can be organic, biodynamic, orange, in short, wines of various production methods, of which at least some are, in my opinion, fashion trends, fashion fads. I respect anyone who is willing to embark on such a slightly different journey of wine production; everyone is trying to find their place in the market in their own way.
Since you do business with professional customers, you can probably easily answer the question of what Slovenians drink or what is drunk in Slovenian restaurants. It is no longer merely an assumption: the culture of knowing and drinking wine has undoubtedly changed in recent decades.
The curve of knowledge of wine and everything related to it has steepened significantly, which is partly due to the trend of good cooking at home and a generally better knowledge of wine. Some credit goes to the increasingly prosperous tourism, which, like the business world, is also interested in good wine, resulting in more extensive and detailed wine lists. There is still plenty of untapped potential, I think. Smaller bars still do not move forward, there are too few wines by the glass and too many wines by the bottle. Whereas in the smallest of bars in Trieste, you will be offered a selection of five champagnes, five franciacortas, five proseccos, a selection of fresh white wines, a house white, etc. Considering how beautifully endowed Slovenia is with vines, we should be doing much more for a better offer.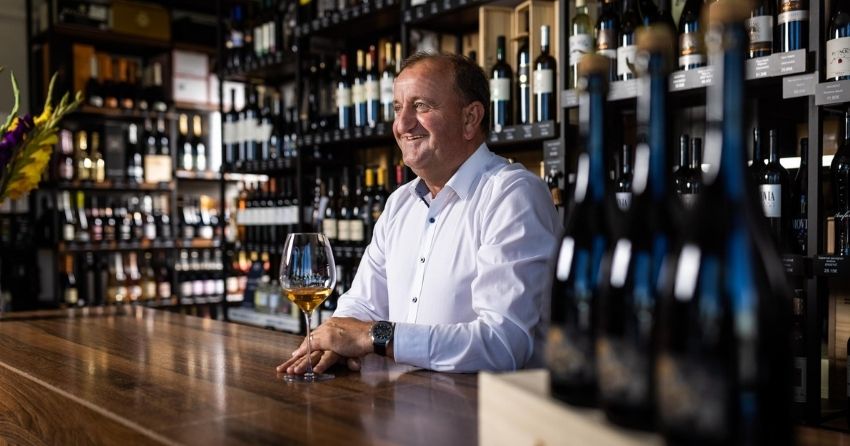 I read some time ago that you are also a supplier of wine to Slovenian embassies. Do they drink the best there?
There is a public tender in which the protocol service or their sommelier selects wines, and then the embassies order the wines. Due to cost-cutting, economical behaviour can also be observed in this sector, which is why top-quality Slovenian wines are not ordered.
Every third Thursday in November, beaujolais is tasted around the world. This tradition was introduced here by you, if I am not mistaken.
It was introduced by someone else, but we have continued it. We are still maintaining it, but I must say that it is in decline. Not without reason: we also have a lot of Slovenian young wines that deserve attention, and there is also a date discrepancy – some winemakers put young wines on the market already in October, others in November. Besides, this French tradition is intended for the whole world. It is nice that their young wine is also tasted here, but it is totally fine if this stays limited to that one week. After all, we have our own Portugieser, from Šturm, Prus, the Metlika cellar and others. Beaujolais just adds a bit of variety and a French atmosphere.
You are in constant contact with winemakers. What are the prospects for the harvest?
The prospects are very good, but we will see. Some rain in the beginning of August would be nice, and hail always takes its toll, it's just a natural risk, but otherwise everything looks good. Well, last year was also good, even wonderful, and winegrowers have beautiful creations in their cellars. But it should be noted that it was a good year for the entire wine-growing Europe. Between 30 and 40% more wine was produced, and a lot of it is good or even very good, so the competition on the market will be tough even for quality wines.
How would you describe the difference between a 20 and 520 euro wine to a potential buyer? You offer Château Pétrus 2014 for 3,294 euros. Does it sell?
We first like to find out which segment the customer wants to choose from, what kind of wine he is looking for, fresh, organic, biodynamic, orange, for what occasion, for what accompaniment. Only then can we present them to him, which is why we have such an extensive selection. Even every winegrower provides breadth within his offer. Sometimes, at major events, the decision can be facilitated by tasting; I can suggest a wine that is to my liking, but it won't necessarily be to the liking of another. Well, I will add here that a large portion, around 30-35%, of the wines sold are always the same wines. Their story is one that always flows, the ones that sell, sell all the time, while others are special stories.
So the long-tail theory, which is also present in book publishing.
In business, this curve is always the same, but every part is important, every winegrower counts. Every one of them is trying to make their own wine… and if hail comes... I would cry too. We distributors know no such risk, hail does not ruin our business. Our job is to present in a beautiful way the winegrower's product, the wine that he produced with his heart and soul and that should be presented in the best possible way to customers, clients, wine drinkers.
How many serious wine collectors do you think there are that have a suitable cellar, wine cabinets and other necessary accessories?
More and more in the last decade, and the number has especially increased in the last two or three years. These are not large numbers yet, but the attitude towards wine is changing tremendously.
I ask because you also deal in wine cabinets and coolers and even an appliance that can pour wine, a so-called wine dispenser.
We started to develop this gadget ourselves in cooperation with the Faculty of Mechanical Engineering in Ljubljana, but we are still in the testing phase. We have a few of them, in our wine shop, in the Wine Point in Ljubljana, in the Radgona cellar, and very soon it will be in the Ljubljana Castle Wine Shop, but all of them are still on trial. This is a product with which we want to write a Slovenian story, and we are still looking for business partners who would be interested in joining. In principle, such an appliance would be useful in hotels and large wine shops, as it allows the customer to pour either a tasting quantity or 50 or 100 ml of wine without outside help. However, the idea is still in its infancy. I thought it would go more smoothly, but it will take us at least another six months before we get it up and running.
Your favourite variety or blend of wine?
I really like Slovenian wines of the Bordeaux style, there are quite a few. I am attracted – but not for refreshment or thirst-quenching – to fresh, drinkable, beautiful white wines, such as pinot gris, ribolla, malvasia, sauvignons are also amazing, and as I mentioned, white macerated wines are also nice in the evening. But I don't always stick to the same ones, I like to try different ones, and at the moment, sparkling wines and champagnes are in trend, of course. Slovenian sparkling wine production has risen tremendously and Slovenian winemakers offer a good range of excellent sparkling wines.
I read in the O vinu magazine that you – like Tomaž Sršen – also recommend port as an excellent pairing with potica (nut roll).
To the Slovenian wine-loving public, port and similar products are a curiosity that is not entirely in line with the main Slovenian wine story: of course they pair very well with potica, but we can easily find more than a dozen Slovenian wines that go with it equally well. Slovenian potica should pair with a Slovenian wine.
The interview was published in the Delo journal on 28 July 2019. Journalist: Igor Bratož
Syrah
Slovenia
·
Slovenska istra
·
Red wine
·
Dry wine
·
2019
·
Dry wine full of flavor. Juicy with medium acidity and rounded tannins. Purple colour with shades of red. Aroma is youthful, spicy with floral notes.
Krasno Rebula
Slovenia
·
Goriška brda
·
White wine
·
Dry wine
·
2021
·
Reminiscent of Mediterranean citruses and cedar – rounded with a delicate note of vanilla and fresh bread crust. Taste is elegant, fresh and harmonious; a slight touch of sweet tannins in a long conclusion. Deep yellow with gold reflections.