A brand of pinot noir elegance
Thirty years ago, Jože Koželj got involved in the wine business more or less by accident ...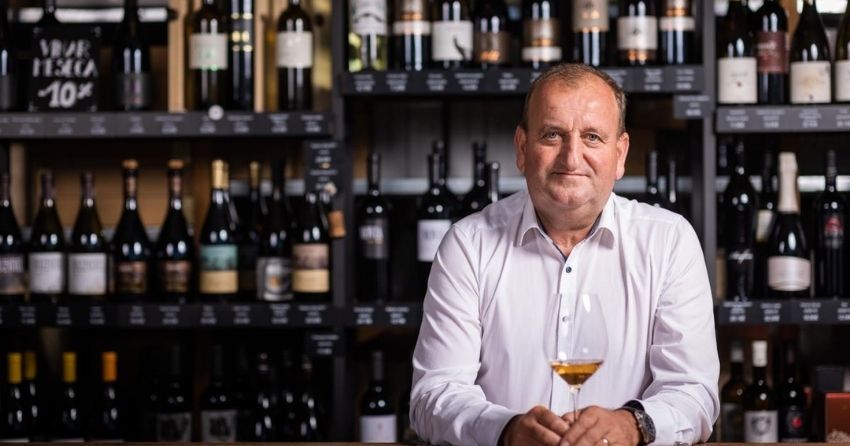 Thirty years ago, Jože Koželj got involved in the wine business more or less by accident, but he quickly became one of the main players in the wine market in Slovenia. Today, he is the largest wine distributor, and his company by the name of Hiša dobrih vin (House of Good Wine) is the go-to place for all wine lovers.
Wine is more than just a drink to him, it tells him stories in which both winemakers and nature that made this gift possible have left their mark. He is convinced that Slovenia has a wonderful wine story, and he wants to pass it on to his customers intact, so that they too can fully enjoy its colourfulness. To him, every wine has its own character, just as the brands he is loyal to. The question of which wine would best suit the Audi brand casually sneaked into our conversation with him. He also shares other qualities with the Audi brand, including a commitment to sustainable development, so it is no surprise that his faithful road companion is the electric E-Tron.
Veliko Merlot
Slovenia
·
Goriška brda
·
Red wine
·
Dry wine
·
2015
·
A wine of deep, ruby red color with a garnet hue. The wine is extractive, thick, the glass colors and creates a wonderful glycerol crown of slowly slipping tears.Its aromas are intense, luscious. Already when pouring, we notice the intensity of ripe black berries, black cherries, plums, black olives, and mulberries, then it reveals hints of dried red roses, which are soon joined by notes of long maturing in barrels. Scents of chocolate, ground coffee, carob, cloves, licorice and notes of smoke are expressed. Finishing strongly with hints of leather and humus.It feels dry, soft and has well-incorporated alcohols. At the same time, it refreshes us, the tannins work smoothly, and we also notice minerality and a wonderful umami finish. A wine that has so much softness that balances the taste, but at the same time indicates a long potential for ageing. A wine of intensity, lasting permanence and expressed, noble elegance, nicely accentuated by his vigorous body.


You have been successful in the wine business for many years. How did you actually get started?
In 1991, as a young man, I began to explore options for my life path. By chance, I came across a friend searching for the right stories for his wine business, and I joined. I first started in distribution and storage, and in 2001 I embarked on an independent wine sales journey. From a small branch, we developed a successful business, and today we are doing nicely.
You are a great connoisseur and probably also a wine lover yourself. Have you always been like that or did it come with the profession?
I've been a wine lover before, but the story we have now is, of course, completely different. In these 30 years, we have gone through a lot of wine testing, tasting, drafting of wine lists for the hospitality sector – with all this you gain experience. In addition, we are constantly in contact with various winemakers, Slovenian and foreign, which gives us additional in-depth knowledge. So now I'm really quite a good connoisseur of wines and everything related to wine.
You have been evolving all this time. This is something we at Audi understand very well – we don't want to stand still, we want to constantly develop new, more advanced, more powerful cars that people love to drive. Progress is our driving force. What drives you?
That's right. We have been evolving our business all the time, from the beginning, when just the two of us took care of everything, to today, when we have twenty employees. Personally, I am driven by the thought of the future, by the fact that my wife and I have very hard-working and prudent children. They are all in the business with us and this is the greatest gift we have ever received. This is also the motto of our story – something you get as a gift from nature, you feel somehow obliged to develop further. That is why we have also developed our Dar sonca (Gift of the Sun) brand.
When did you start your brand?
About ten years ago. The first wine we offered under the Dar sonca brand was malvasia, and it is still very successful. We gradually added other wines coming from different regions of Slovenia. But our approach is special, in a way unique. We find a small winemaker with an exceptional wine that he cannot sell or for some reason does not offer on the market, and we develop the wine together with him.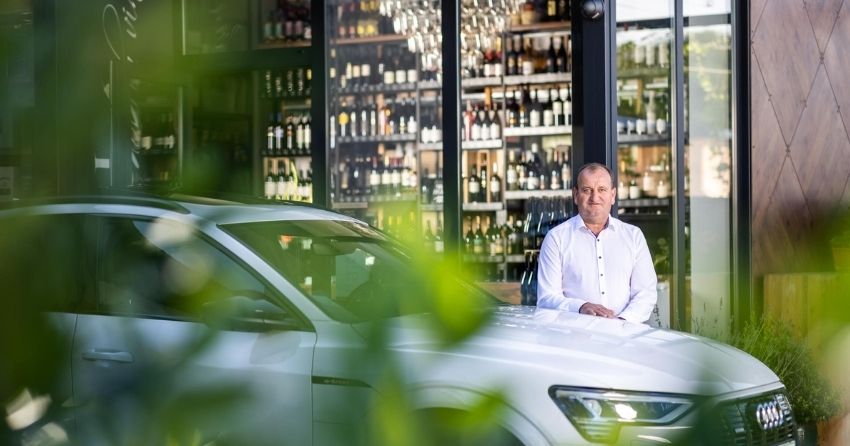 Can you tell us an interesting story of a winemaker who developed a wine with you?
I find it difficult to point out just one, as they are all equally important to us. However, I can present some of them that showcase our approach. We have been cooperating with Dušan Trošt from the Vipava Valley for a long time and now we fill about 20,000 bottles of his malvasia every year, which is a good amount for Slovenia. We have other smaller winemakers from the Vipava Valley, such as Radivoj Lisjak, who fills our cabernet franc. Then I can mention the rosé of Dušan and Marko Kristančič from Goriška Brda, who are well-known winemakers, but they themselves do not sell their rosé on the market. The story we have with the cellar of Vina Koper, with their barrique wines, is also special. These are wines matured in oak barrels, they are not fresh wines, but wines for ageing. Their barrique merlot and cabernet sauvignon are bottled in magnums and are very good wines.
Under the Dar sonca brand, you cooperate with both small and established winemakers, but it is always about special wines.
That's right. We form special collaborations, and at the same time we make sure that we offer a variety of wines to cover the whole of Slovenia. Vineyards in Slovenia are an incredibly beautiful story. Every region has its own peculiarities, its own character. And every winemaker is a story unto himself. For us, this is an admirable individual with a human hand, vine and land, from which only he knows how to make his wine. So every wine is something special. We connect these individual wine stories and spread them further.
To what extent does the wine reflect the character of the winemaker?
Fully. With certain winemakers, when we enter their cellar, we already know in advance what the wine will be like. Because every winemaker has his own idea of what kind of wine he wants to have. Some are cosmopolitans, they travel around the world a lot, try the best wines from different regions and they want to imitate this as much as possible with their own potential, while others do their own thing.
What about our taste? Has it changed much?
With globalisation, everything is changing. The culture, the lifestyle and also the drinkers. They are more and more informed, they travel more, they educate themselves. This is how trends change. My salespeople and I always talk about the need to keep up with fashion and cars. These are constantly changing, and I personally admire your ability to put a new car on the market at regular intervals. It's the same with wine, there's always something to add, something personal. Every year, the wine is different also because the harvest is different, the nature is different. But wine never goes out of trend.
Who sets the trends – customers, winemakers, bar and restaurant owners, distributors?
All of them together, but the international wine evaluations are the most important. They bring together the world's elite of tasters, journalists, winemakers, distributors, etc., so a lot of trends are set there.
What kinds of wine are popular today?
Very popular are fresh, light and drinkable wines. There is a big spike in sparkling wine popularity, and organic wines are also on the rise. We all go back to nature.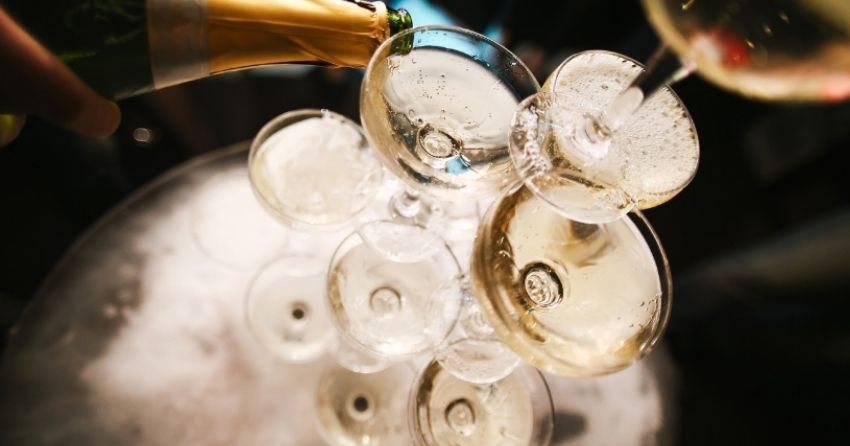 Was the change in tastes also influenced by the pandemic?
In fact, the lockdown that came with the pandemic also brought about an unexpected change in the wine market. There was more breadth. The emphasis was more on online sales, as people may have had a little more time to research the stories, they became more aware of the diversity and the fact that different wines pair with different foods. I've been warning bar and restaurant owners for a while now that they can't have just one type of malvasia, pinot gris, etc., that they have to have some range. In Slovenia, we have an incredibly rich wine story, but on the other hand, when we come to a bar, we find that it offers only five different wines. That is changing now. In restaurants, a lot has been done to promote Slovenia with good chefs and Michelin stars, and with this the wine offer also expanded. I hope that this trend will continue, even in smaller bars, and this is already happening. There will be more good wines, a larger selection of sparkling wines, white and red wines, even foreign ones, so that we can compare and see that Slovenian wines are not lagging behind.
Has the pandemic affected your company as well?
Most of our business, about 70%, is focused on the hospitality sector. At lockdown, we had to transform quickly if we wanted to survive. We didn't lay off, you know, a good worker is hard to find. For a quick turnaround, I have to thank the members of our young generation Rok and Lucija, who quickly set up the website, so that we made up for the decline online.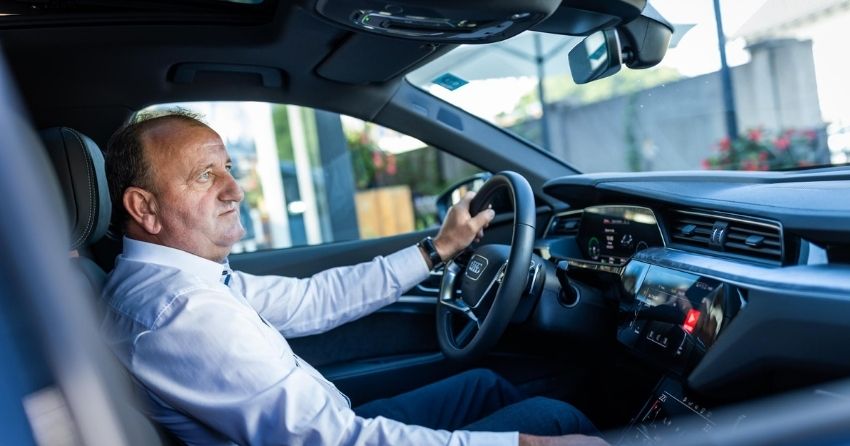 What does your business encompass?
Our business is the sale of wine. We represent about 90 brands of Slovenian winemakers and an increasing number of foreign winemakers. We are approaching 50 brands of foreign wines, which is an area managed by my son Rok, who has integrated into our team very well. Our offer also includes spirits, gin, whiskey and the like. In total, we have about 1,500 different types of wines and spirits. In addition to this, we also sell olive oil, pumpkinseed oil, food such as prosciutto and cheese, glasses and other utensils.
So everything we need to enjoy wine?
Exactly.
Wine lovers probably prefer to shop at a specialised online store than in a department store.
Our store has a large selection of products with which you can fill your cart yourself. In addition, we package the purchase nicely and, if possible, deliver it ourselves so that we have direct contact with the customer. You know, if you order wine for a special occasion and you're willing to pay a little more for it, it also matters how it gets to you. The whole experience, up to the moment when the customer receives the wine in their hands, has to unfold the way it should down to the very last detail. This is the same as with cars. You won't be satisfied with just an empty seat, it has to be the whole package.
How good are Slovenian wines?
Our winemakers are amazing, they monitor the global market closely and achieve excellent results. Slovenia also offers very good natural conditions and a diverse landscape, so we can produce wonderful wines. This is also demonstrated by numerous international awards. By no means do we lag behind the world's elite, the only thing we maybe lag behind in with certain wines is the price.
When you started, the Slovenian wine market was probably not as strong as it is today. When did it develop?
We had good winegrowers even before that. Čurin, Kristančič, Movia, Radivoj Lisjak, as well as cooperative wine cellars have always been at the top – the Ormož cellar, the Vina Koper cellar and the Vipava cellar, which already in 1992 produced a very renowned '72 vintage brandy. We only have two more bottles of this brandy in stock and it fetches a high price. So there were some daring moves already at that time, but after independence many more smaller winemakers emerged. They were hardworking, exclusive, with a youthful impetus, and they brought about a very good revival in young Slovenia.
Interview by: AUDI SLOVENIJA
Champagne Cristal Brut 2014
France
·
Champagne / šampanija
·
White wine
·
Brut
·
2014
·
Every new vintage reveals the unmistakable Cristal character although through a very different prism each time, a kaleidoscope of flavours and textures, a palette of nuances.With its rich, fleshy character and exceptional maturity, the Cristal 2014 discloses the inherent purity of its aromas with disconcerting ease. The wine's powerful fruitiness melts into an intense, powdery and saline chalkiness before giving way to a graceful finish.Cristal 2014 now offers itself to us for drinking yet still has great potential for evolution and a long future ahead of it.The 2014 is a loyal expression of the vintage and a more accurate reflection of the Cristal style than ever. It delights us effortlessly and unapologetically. It is a great Champagne wine with both allure and charm. A perfect Cristal and intensely of the 2014 vintage.
Pavo belo
Slovenia
·
Goriška brda
·
White wine
·
Dry wine
·
2021
·
The yellow colour with gold fragrances indicates that the wine was matured in the finest wooden barrels. The aroma confirms the contact between wine and barrels. The bouquet is very delicate, elegant and expressive, from yeast to vanilla, caramel and well integrated oak notes. Acidity and tannins are nicely balanced and contribute to its character. The chardonnay character is dominant, and fits nicely with Malvasia, which makes the wine wider and more elegant. Persistent and elegant wine, mature and youthful at the same time, with multi-layer aroma and exceptionally long aftertaste.